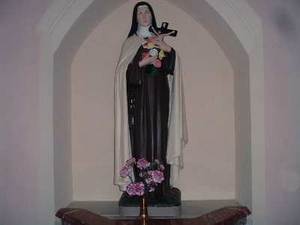 I believe in life everlasting
The Christian who unites his own death to that of Jesus views it as a step towards him and an entrance into everlasting life. When the Church for the last time speaks Christ' s words of pardon and absolution over the dying Christian, seals him for the last time with a strengthening anointing and gives him Christ in viaticum as nourishment for the journey, she speaks with gentle assurance: Go forth, Christian soul, from this world in the name of God the Almighty Father, who created you, in the name of Jesus Christ, the Son of the living God, who suffered for you, in the name of the Holy Spirit, who has poured out upon you. Go forth, faithful Christian!
Catechism of the Catholic Church. (1020)
Obituaries 2017
January
Joe Cullen. Crowenstown, Delvin.
February
Pat Fox. Printinstown, Delvin.
Brendan Dunne. Ballinacor, Delvin
March
Mona Cusack, Rosmead, Delvin.
April
Mary Mc Cann. Church View, Delvin.
Willie Fox. Killulagh, Delvin.
May
No Obituaries.
June
No Obituaries
July.
Joseph Gray. Addinstown, Delvin.
Martin Carroll
Ursula Butler. Church View, Delvin
August.
Harry Barry. Dublin Formerly Delvin.
September
Bride Garry. Ballyhealy, Delvin.
Jean Flynn. England. formerly, Delvin.
October
Sr. Concepta Murtagh. Loreto Convent, Navan.
Mossy Gilmore. Addinstown,Delvin.
Mary Keane. Bolandstown, Delvin.
Ruth Lynch Barry. Dublin. formerly Delvin.
Frank Walsh. Dublin. formerly Delvin.
November
No Obituaries
December
Martin Davis. Australia, formerly Robinstown, Delvin.
Obituaries 2016
January, 2016
Ursula King. Dardistown, Hse, Bracklyn.
February
Mark Hickey. Lisclougher, Delvin.
Susan Maguire. Stoneyford Park, Delvin.
Gerry Kiersey. Stoneyford Park, Delvin.
Joe Lynch. Clonleim, Delvin,


March
Paddy Gray. Crowenstown, Delvin.
Philomena Smith Ballinaskeagh, Delvin.
April
Tommy Gaffney. Bracklyn, Delvin.
Jack Ivory. Martinstown, Delvin.
May
Betty Corcoran. Robinstown, Delvin
June
Bridgie Doyle. Killough, Delvin.
Andy Leonard. Clondone, Delvin.
Tommy Murphy. Clonarney, Delvin.
Baby Marcus Daugela Dryderstown, Killulagh.
July
Angela Monaghan. Ballinn, Delvin.
Paul Williams. Castleview, Delvin.
Willie Walsh. Mitchelstown, Delvin.
August
No Deaths
September
No Deaths
October
Toss Anderson. Dardistown, Bracklyn,
Amy Sheridan.Laura Finnucane. Southill Hse. Delvin.
November
Gretta Mc Donnell. Billistown Hse, Delvin.
Charlie Doyle. Ballyowen.
December
Joe Reilly. Ballyhealy, Delvin.
Nancy Lenihan. Bells Hollow, Castletown, Delvin.